Cruise Through Nature's Beauty in Comfort & Style with Our UTVs
Explore the Mountains of Highlands with Highlands UTV Rentals
Explore Nature's Majestic Splendor in Comfort & Style!
Local family serving Highlands since 2023
---
Are you looking for an exciting adventure in the beautiful mountains of Highlands, NC? Look no further than Highlands UTV Rentals! Our top-of-the-line UTVs provide a comfortable and stylish way to explore nature's grandeur. With our superior customer service and affordable prices, we are sure you will have an unforgettable experience with us.
So what are you waiting for? Book your rental today and let Highlands UTV Rentals make your next outdoor exploration truly remarkable!
We're Fully Licensed and Insured
Start Here:
---
Hours of operation:
Spring & Summer
| | |
| --- | --- |
| Monday to Saturday | 9 am – 7 pm |
Fall & Winter
| | |
| --- | --- |
| Monday to Saturday | 9 am – 6 pm |
CLOSED on: Sundays, Thanksgiving Day, Christmas Eve, Christmas Day, New Year's Eve, and New
Years Day.
Contact:
1029 Hicks Road
Highlands, NC 28741

Phone: 828-482-1612
sammie@highlandsutvrentals.com
No pets.
No checks
Debit, credit, and cash ONLY
UTV Pricing:
This pricing is for:
2-seater Yamaha R-Max 2 and
4-seater Yamaha R-Max 4 1000 XT-R
| | |
| --- | --- |
| 2-hour rental | $150 |
| 3-hour rental | $200 |
| 4-hour rental | $250 |
| 5-hour rental | $300 |
| 6-hour rental | $350 |
| 7-hour rental | $400 |
| 8-hour rental | $500 |
| | |
| --- | --- |
| 1-Day rental | $550 |
| 2-Day rental | $950 |
| 3-Day rental | $1,250 |
| 4-Day rental | $1,550 |
| 5-Day rental | $1,825 |
| 6-Day rental | $2,125 |
| 7-Day rental | $2,490 |
Plus $30 Insurance and 6.75% NC sales tax.
★ For DAILY rentals, drop off and pick up is available with an additional $50 fee.
★ If a gas station is not in close proximity for pick up, a $20 gas fee will be added. (Our policy for hourly rentals is the machine be filled up with premium gas and the receipt brought to the office.)
---
Cancellation:
★ Full refund if canceled 72 hours BEFORE rental begins.
★ Rain check or gift certificate if less than 3 days cancellation.
★ No-shows are at full price.
★ Cancellations by phone or in person ONLY. NO social media cancellations.
Please note:
★ Upon booking your rental, ½ of the payment is due.
★ Remainder due on arrival.
★ BEFORE returning UTV a full tank of premium unleaded gas is required; please bring the receipt to the office.
★ If a child requires a car seat, the car seat must be provided by the renter and installed and uninstalled by the renter for safety purposes.
★ Seatbelts are to be worn by ALL Participants at ALL times.
★ UTVs are NOT for off-roading.
★ NO trailering allowed.
Rental requirements:
● Must be 21 years old to rent a UTV.
● Must have a copy of a valid driver's license.
● Multiple drivers – must have copies of ALL driver's valid licenses.
● Must have the primary driver's physical address, city, state, and zip code.
● Participants must purchase insurance offered by Highlands Side x Side; if a machine is wrecked/totaled/flipped, $2,500.00 will be automatically pulled from your credit card/debit
card. There is also a $500.00 per day loss of rental charge if a machine is found to be unsafe for other Participants' use. This loss of rental charge can accumulate depending on the availability of parts to correct the problem that occurred due to negligence. Damage is assessed on a per unit basis and will vary upon the severity of the damage and the machine(s) state of use. The above figures are based on the Highlands Side x Side insurance policy
● For us to verify our Participants, you MUST provide your full coverage automobile insurance and bring a copy of your automobile insurance card with you. We may also call the insurance company for verification.
● Primary Participants must be with the machine at ALL times. You can not be a primary Participant and let the machine be left to any additional drivers. Please be advised our insurance covers the PRIMARY PARTICIPANT and the added additional driver(s) per our contract. ALL those who sign must be with the machine rented and be validated. Additional Participants who are not signed at the beginning of the process and validated
can potentially VOID the insurance leading to full replacement cost of the machine if flipped/damaged to the extent of non-use that day.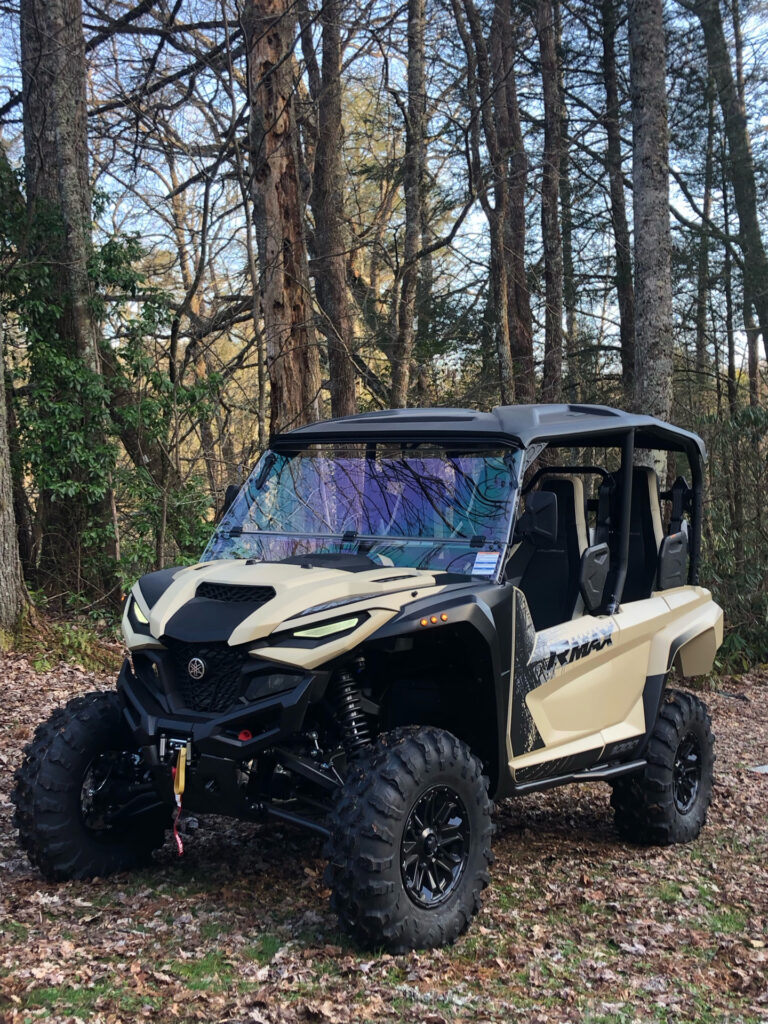 OUR VISITORS LOVE US
---
"Highlands UTV Rentals is the perfect way to explore the breathtaking mountains of Highlands, NC. With their top-of-the-line vehicles and excellent customer service, my family had an amazing adventure exploring nature's grandeur in comfort and style. Highly recommend!"
— John G., Asheville, NC
"My husband and I decided to rent a UTV for two days from Highlands UTV Rentals during our visit to Highlands. We had a fantastic time discovering nature's majestic splendor with its luxurious vehicles! The staff was so helpful throughout our experience; we will definitely be back again!"
— Lisa L., Atlanta GA
"I recently visited Highlands UTV Rentals in Highlands with some friends and it was one of the most unforgettable experiences I've ever had! The views were out of this world and driving around the mountain trails in such comfortable vehicles made it even more enjoyable. 10/10 would highly recommend!"
— Michael F., Charleston SC
"My wife booked a three-day rental from Highlands UTV Rentals for our anniversary trip to North Carolina and it was absolutely incredible! We enjoyed cruising through Nature's beauty on their high-quality UTVs while surrounded by splendid views. An unbeatable experience at an affordable price point–can't wait until we can come back again!"
— Eric B., Raleigh NY