Bridal Veil Falls
Bridal Veil Falls right outside Highlands, yields memories to many who work and live in the area. It is a 60-foot waterfall, part of the Nantahala National Forest. Located right beside Highway 64 it varies in water volume due to the rain amounts received and in winter produces incredible ice formations, sometimes from the top of the falls to the
ground. The parking to view is roadside.

Directions: From downtown Highlands at the intersection of Highway 28, take Highway 64 west for 2.3 miles. Parking is on the right.
Dry Falls
Dry Falls is approximately 3 miles from Highlands on Highway 64. Here you can walk behind the Falls; after a brief decline of path and steps. Be cautious as this is a natural and man-made path which weather and foot traffic can affect greatly. The falls are 75 feet high, providing a mist as you get closer. If you are unable or you choose, you may see a different perspective of the Falls from a full observation deck which is found right off the parking area. This area provides incredible photo opportunities.

Directions: Leaving Highlands, take Highway 64 west about 3 miles. A Forest Service sign is visible for the parking lot on the left roadside. When the parking lot is FULL, please try to visit at another time. This area can become extremely overcrowded during certain months of the year. There is also a PARKING FEE.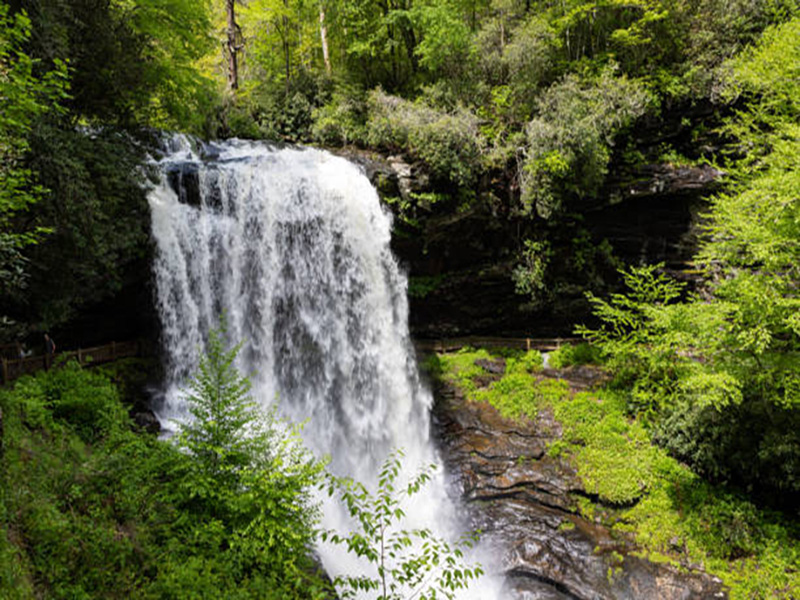 Whiteside Mountain
Whiteside Mountain is situated in the Nantahala National Forest near Highlands, North Carolina. This rock-strewn peak offers scenic vistas and a challenging climb for visitors who are up to the task.
Big Shoals
Big Shoals AKA Secret Falls is a beautiful 50-foot waterfall on Big Creek. It cascades into a calming pool. Both relaxing and tons of photo ops, a great area to spend the day. From the parking lot, the hike takes approximately 30 minutes.

Directions: Going east out of Highlands, you will be traveling on windy Horse Cove Road. In approximately 3.7 miles turn right onto Walking Stick Road. It is a gravel road, with several homes, so please drive respectfully and obey ALL traffic rules. At 0.6 miles
down this road, you will see Walking Stick Falls. Continue here for 2.5 miles to a fork. Turn right and drive ¼ mile. There is a small grass area to park. It is a ¼ mile hike to the trailhead. You will cross some small creek areas continuing uphill. Follow the trail down
to the base to get a safer view, especially with SMALL CHILDREN. The trail splits going to a sandy area.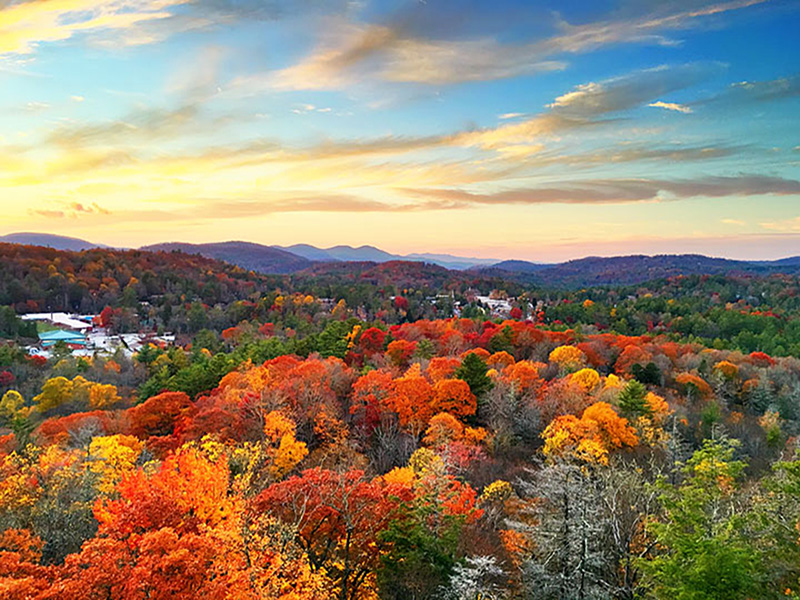 Sunset Rock
Sunset Rock is a wonderful late afternoon hike or UTV ride in the Highlands. It is 0.7 mile's one direction which ends on an incredible natural rock cliff where the Town of Highlands and Brushy Face Mountain can be viewed. Sunsets here are memorable and give way
to beautiful photos.

Directions: To begin this trail take Main Street east from the intersection of Highways 28 and 64 in Highlands. Parking for the hike is located on the right; follow the gravel road to Sunset Rock. There is a Private Drive at the top, so be extremely courteous to
not block. A short trail to the right leads to Sunset Rock.
Bust Your Butt
Bust Your Butt is four miles west of Highlands On Hwy 64. This is a 25-foot waterfall that flows into a relaxing pool and small beach area located on the Cullasaja River along Highway 64 near Highlands. This is a great waterfall viewing area with easy access, but be cautious the rocks are slick and the water is incredibly forceful. There are parking locations on the right and left side of the roadside.

Directions: Highway 64 west about 6.5 miles from Highlands. Falls will be on the left with parking on both sides of the highway.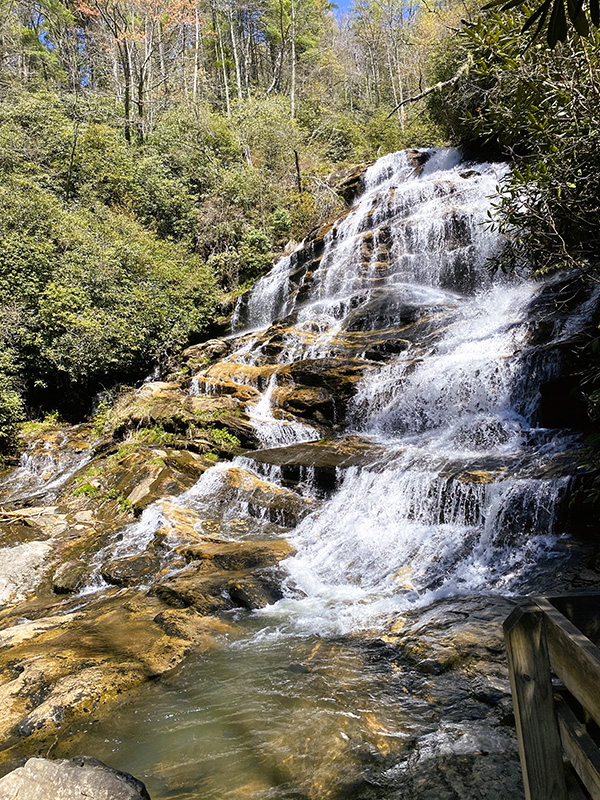 Glen Falls
Glen Falls is a triple waterfall near Highlands. Located on the east fork of Overflow Creek; part of the Blue Valley area. It is roughly a 2-mile round trip hike, with numerous switchbacks, so the climb is not too steep. When you arrive at the parking lot, head down the trail. There are observation decks to safely view the Falls.

Directions: From Highlands go South on Highway 106 about 1.7 miles and look for signage to the Glen Falls Scenic area on the left. There is a gravel road leading to the dead-end parking lot in about 1 mile.
Iron Bridge
Iron Bridge is located at the trailhead of Chattooga Loop Trail. Enjoy a 2-mile hike along the Chattooga River where there is a small beach area and river rocks to relax on. Follow the trail signs for additional hiking.

Directions: In an easterly direction leaving Highlands, Main Street becomes Horse Cove Road. You will travel 4.5 miles on a windy road. When you reach Horse Cove Road, Whiteside Cove Road, and Bull Pen Road, turn right onto Bull Pen Road and drive about 3 miles to the Iron Bridge.